It's been a whirlwind since baby Chase joined our family. Time flies quickly so people were right telling us don't blink, they grow up so fast. I want to recap some things we've learned in this first couple of weeks and some milestones along the way.
Chase's birth announcements. The pictures were taken at 1 day old. 🙂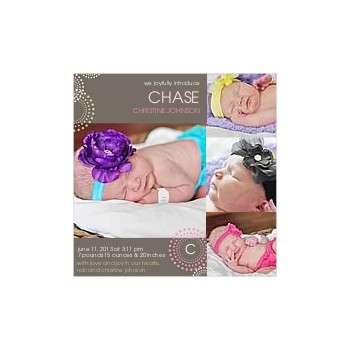 Week 1 Photos
Chase loves to sleep with her hands above her head like this. We didn't pose her this way. 🙂
Jumpsuit – Carters, Headband – Etsy Store CutieButtsBoutique
Week 2 Photo
Purple Dress – The Children's Place
Week 1 and 2 – Breastfeeding
The first week was all about breastfeeding. Chase took to it immediately in the hospital and never looked back. She has been very eager to eat, so much so that we had a little snacker on our hands. She was wanting food every 30 minutes to an hour. We wanted to encourage her love of breastfeeding so I accommodated any request. After a few days of that we gradually started extending her time between feeding gradually. This meant that she would eat more aggressively than snack, which in turn keeps her fuller longer. We were very fortunate that breastfeeding has went so well for us.
By day 10 we ran into either a growth spurt or that my milk supply wasn't where she wanted it. We went from 2-2.5 hours between feedings to every 30 minutes or an hour at most. She has been extra fussy about being hungry. It's draining especially at night because that means she won't sleep more than 15-30 minutes without wanting to eat again. If it's a growth spurt it can last 2 days to a week.
I've started doing some pumping to prep for introducing bottle feeding around 3 weeks.

Week 1 and 2 – Sleep
One challenge that we had was Chase's nights and days were flipped. She would be a sleepy angel all day and then at night she was ready to party and eat often. Being her food source I was averaging 2-3 hours of sleep at night pieced together in 30 minute increments. Rob and I were walking zombies for that first week. Rob and I were prepared for sleepless nights of feedings and diaper changes. What I wasn't expecting was you will get almost zero sleep because the baby doesn't want to sleep at all.
To change her night and day confusion is not an easy process. We learned quickly that we needed to establish a game plan of establishing sleep pattern based on information we had read and advice from others. A couple of books that helped with forming our plan was "The Baby Whisperer Solves All of Your Problems" and ". With all the information my inner-runner became frustrated with all the varying information. It was much like researching marathon training plans, each has their own philosophy. In running you get plans that say "run less", some that say "run more", some say "recovery is key", others that say "race pace training is essential", etc. It's enough to make my head spin. This all felt similar. Keep a baby up in the day so they know it's day and not night, but not too much because then you over stimulate them and then they won't sleep out of frustration. It's like deciphering a sleeping baby time bomb. The information is all over the place. So I started writing down some of the sleep mission we would try to instill with Chase and experiment to see what works. It may seem obvious to you parents, but it really helps me have it written out to organize my thoughts, especially in my sleepy state these days.
Even when establishing this plan, we recognized quickly how important it was to be consistent. Any tiny change in the routine would affect how the evening would go. Here are some of the things that we implemented.
Every morning needs to begin like our work schedule will be and not vary (aka no sleeping in as it could confuse Chase about what is morning time).
During the day the lights need to be on and shades open to have as much light as possible.
Use nap times to get Chase use to her crib.
We will take morning walks with Chase, weather permitting.
Evening wind down will include: bath, vitamin, swaddle, breastfeeding, and story.
Week 1 and 2 – Milestones
Weight
Tuesday, June 11, 2013 – Chase weighed 7 lbs 15 ounces when she was born.
Friday, June 14, 2013 – Chase's doctor appointment she weighed 7 lbs 7 ounces
Wednesday, June 19, 2013 – Chase's doctor appointment she weighted 8 lbs 2 ounces
The doctor was very pleased with Chase's weight gain. They want the baby's weight to come back to birth weight by week 2 and Chase was ahead of schedule. Our next appointment is scheduled in two months.
Movement
We've being doing 1-1.5 minute stints of tummy time and can already see Chase's neck getting stronger.
By week 2 she already has better use of her hands and isn't accidentally scratching herself as much.
At the end of week 2 her kicking has really picked up. Swaddling may not last as long as we were anticipating with the way she kicks.
Week 1 and 2 – Essential Items
iPad 2
Before Chase was here, Rob and I would use our iPad 2's daily for surfing the internet and reading books or magazines. Now I would say that the iPad 2 is next to me all day long with Chase. We use them for reading her stories, looking up baby health information, setting alarms for feedings, listening to music with her, and to use my favorite app BabyConnect. It's an app that allows you to track diaper changes, feedings, sleep, activities, milestones and more. We use this app all day long to record as best possible what baby Chase is up to.
Mountain Buggy Terrain and Peg Perego Car Seat
I love our carseat and running stroller. While I'm not yet running, we have taken it an our Quinny stroller on our walks. I love them both, but the Mountain Buggy would be my favorite between the two because it is equipped and ready for a long run. I love the idea of being able to take off for a run soon. 🙂
Us out with the Quinny stroller for our first walk as a family.
More Quinny time.
Out with Mountain Buggy Terrain.
Halo Swaddling Blanket
We are swaddling Chase when she gets fussy and we have both the Swaddelme and Halo. I would say Halo wins for us because the wrapping is easier to accomplish with Halo. Also, it has a full body reverse zipper, meaning it zips from top to bottom. This allows for you to unzip the Halo to do diaper changes without fully unswaddling the baby, score!
You have a baby? You need Wubbanub. They are amazing. They are Soothie pacifiers with a little stuffed animal attached. Seem unnecessary? Well as soon as you see how a regular pacifier goes flying and rolls away a 100 times when the baby accidentally knocks it out of their mouth, you will really see the value the little stuffed animal brings to keeping the pacifier nearby. Plus Chase seems to enjoy practicing grabbing it herself.
Week 1 and 2 – Not So Essential Items
Receiving Blankets as Swaddling Blankets
Receiving blankets are a must for draping over the baby to keep them warm, draping over me for breastfeeding when company is around, for covering her carseat in a pinch when it's sunny, the uses go on and on. The one use that I wouldn't recommend is swaddling. I know that there are all sorts of instructions out there for swaddling with receiving blankets and they even do it in the hospital that way, but for us it's not a decent enough swaddle. Chase is very strong and using a Halo Swaddling Blanket is the way to go.
The First Years Sounds for Silence Premium Sound Machine
We were at BabiesRUs and bought this sound machine without doing any research, which was a mistake. This thing is a piece of crap, just like the reviews say when I looked it up at home. I ordered the Graco Sweet Slumber Sound Machine. Hopefully it works out better.
Week 1 and 2 – Lessons Learned/Tips
There is even less sleep than people warn you about.
When the baby naps you can do one of the following: sleep, eat, or shower. But don't plan to do more than one per nap.
Week 1 and 2 – My Recovery
My recovery is going well. I have a follow up with my OB at week 3 since I didn't tear. I hope to get clearance to do more exercises and potentially start running.
I gained 40 pounds with my pregnancy, which wasn't surprising. I was under weight per pregnancy standards and as soon as my training changed I started to gain weight. So far I've lost 21 pounds since having Chase and that's without being back to training. I feel good that the 19 remaining will come off over time and I will need to work on getting back muscle tone.